The Armadillo Awards are a way to recognize the amazing local businesses in Austin and their contributions to the community by the Austin Independent Business Alliance (AIBA), a nonprofit organization of locally owned and operated independent businesses that have joined together to promote the cultural and economic benefits of shopping locally.  MUNDU Media has been nominated in the category of Business with No Front for the Armadillo Local Business Awards. The winner of each category will be chosen by public vote from April 6-19 at www.ibuyaustin.com/dillovotes . Thank-you in advance for your support.
From these votes, the top five finalists will be honored at the Armadillo Awards on April 29th at Marchesa Hall, with the winners announced live that night. It will be a night of celebration with a live marching band, food trucks, an exciting atmosphere, goodie bags, and networking with other local business owners before the ceremony. It is free and open to the public, but an RSVP is necessary to attend: http://tinyurl.com/mg3lc6u
AIBA works to ensure the success of Austin's local independent businesses so that we can continue to contribute to Austin's rich character and vibrant quality of life. By preserving what is unique about our city, we can avoid becoming "Anywhere, USA." A marketplace of thousands of small businesses helps to ensure more innovation and competition, and lower prices over the long term. Independent businesses, choosing products based on what their local customers need and desire, not a national sales plan, guarantees a more diverse range of product and service choices.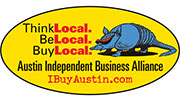 Buy local whenever possible. Every time you spend a dollar at local, independent businesses you not only impact the cultural vitality of our community, but you also help build a stronger local economy. By keeping dollars in the Austin local economy with modest changes in consumer spending habits can generate substantial local economic impact. For every $100 in customer spending at a national chain, the total local economic impact is only $13. The same amount spent with a local merchant yields $45, more than three times the local economic impact.