LinkedIn ProFinder program is designed to help freelance and independent marketers in the Austin, Texas Area find new clients. Some questions to ask yourself if you meet some of the key qualifications LinkedIn is considering when evaluating independent professionals to join pilot program are:
Are you a freelance or independent professional?
Are you experienced in your industry?
Is it clear from your profile what kind of clients you serve?
Do you have a complete LinkedIn profile?
If you can answer yes to these questions, then you may be a fit for LinkedIn ProFinder!
Learn more about applying to become a part of the LinkedIn ProFinder pilot program .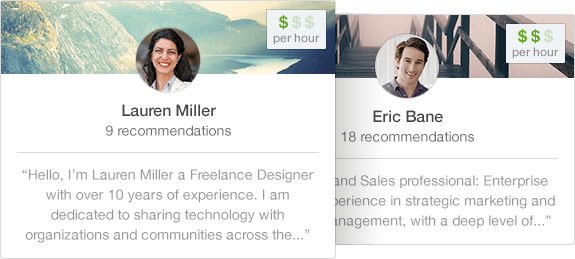 There are five main pieces LinkedIn is considering when viewing what they consider a successful profile:
Profile photo – A professional profile photo is the key to making a good first impression. Your photo should be clear, warm, and memorable.
Headline – It's important to make sure that your headline matches the services that you originally selected on ProFinder, otherwise your specialties become unclear.
Summary – Your summary is a great place to highlight your passions and accomplishments in your own words. This is a valuable section that helps you stand out.
Recommendations – Recommendations are absolutely essential, as they can be the difference in whether or not you're hired. Please bear in mind that it's quality before quantity! A great recommendation has three parts:

Clearly defines your role in the project and its completion
References the skills utilized
Includes a date

Long form posts – The quickest way to build your brand is with LinkedIn's publishing platform. You can write about anything from industry trends to career accomplishments. It's important to write about what you know as these posts will help establish yourself as an industry expert; they will be clearly displayed on your ProFinder profile and they're also available to all LinkedIn members, not just your network.
Using these five keys to a complete and professional profile will help you make a great first impression with potential clients.